Ayuryogpeeth

Oldest Yoga School in India
Ayuryogpeeth is one of the best and most posh Yoga School around Rishikesh, Dharamshala and Gokarna, Goa. It is a school which conducts Yoga Teacher Training and Ayurveda Retreat regularly and provides services in the field of Yoga, Pranayam and Meditation, whereby ensuring a platform which can be used by several people to cleanse and balance their bodies and make them yogi lifestyle and get rid of all the detoxification in their bodies. The Ayuryogpeeth has a good history and has helped individuals get better in their lives through the help of various yoga and ayurvedic services that are provided at our Yoga School. [...]
Read More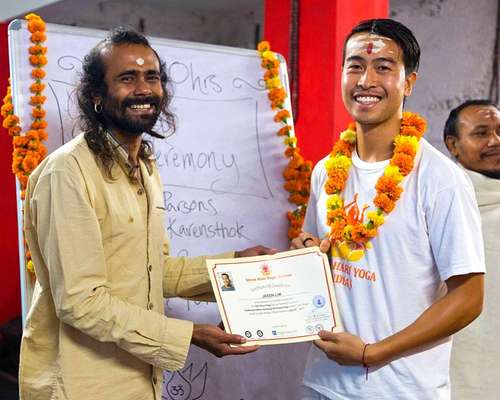 ---
Yoga Teacher Training in India
Ayuryogpeeth is a school of Yoga Teacher Training affiliated to Yoga Alliance USA. The vision of Ayuryogpeeth is create a peaceful world where there is no place for stress, depression, panic or any kind of mental and physical illness with the help ancient methodologies for healthy living. It follows standard guidelines of Yoga Alliance USA to establish easy and effective techniques of true yoga encapsulating lessons from our ancient yoga teachings which include implementation of powerful yogic postures, pranayama, mudra, mantra chanting and various methods of meditation. It intends to provide natural environment for yoga aspirants to understand and practice yoga to achieve absolute state of self-realization. Ayuryogpeeth Rishikesh has successfully established several yoga schools on national level and in neighboring countries to teach the ancient art of yoga sustaining its glory through out the world. Our prime objective is to raise a community of highly trained and certified yoga teachers to help others learn yoga in its traditional form to spread the glory of ancient yogic sciences in every nook and corner of the globe. Ayuryogpeeth take the responsibility to provide yoga friendly environment to the students who come here with an aim to become certified yoga teachers with world class accommodation facilities with hygienic food cooked according to the Ayurvedic instructions. Improving lives on this planet by developing a healthier way of living following the teaching of yoga is our core mission. We aim to improve physical and mental as well as vital health of the people coming here from different parts of the world. We are committed to offer classes on Ayurveda, naturopathy and a series of Yoga Courses in India according to the Yoga Alliance USA standards to fight all kinds of diseases.
Why Learn Yoga in India
Yoga Teacher Training in India is considered to be "the Yoga capital of the World" today. It's become the world's top destination for learning and practicing Yoga. Thousands of individuals from all parts of the globe visit Rishikesh to find out this ancient science of self-realization. Rishikesh may be a convenient place to find out and practice spirituality. You'll get many options to learn Yoga from the qualified Yoga teachers who have spent several years in learning Yoga and spirituality.
This is the trail you've got chosen. Yoga isn't just physical practice, but a life-style. For those desirous to expand their knowledge, self-practice and need to know the important roots of yoga, Ayuryogpeeth is suggested. Of course, you'll join an ashram and knowledge the normal practice that comes with ashram living, but the knowledge gained throughout a TTC educates you on these same principles during a learning environment, not just a living environment. In a TTC, yoga is taught beyond asana practice. Pranayama, shatkarma, yoga philosophy, anatomy and alignment are all taught with a dedicated and interactive approach by highly qualified practitioners. You're supported every step of the way in your learning and may graduate confident in self-practice and teaching others safely. Ayuryogpeeth has committed you a novel yoga lifestyle with different level of Yoga Teacher Training.